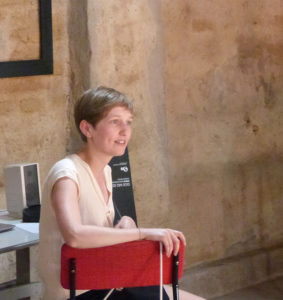 Biography Katharina Roth
Katharina Roth, born in 1990, started composition in 2003 when she met Tilo Medek. In 2009 she began her studies at the University of Music in Lübeck with Dieter Mack and from 2011-2012 she studied composition with Daniel D'Adamo at the Conservatoire de Reims (France). She finished her Bachelor studies in composition with Dieter Mack in 2014 and her piano studies with Jacques Ammon, which she did at the same time, in 2015. Through internships in concert organization, as well as in music-therapy and -pedagogic, she enriched her studies. Masterclasses with Samuel Adler, Sandeep Bhagwati, Oscar Bianchi, Anton Safronov, Brian Ferneyhough, Johannes Schöllhorn and Rebecca Saunders were very important for her musical development.
In 2013 she obtained a 2nd prize at the Felix Mendelssohn Bartholdy Hochschulwettbewerb for her piece Kleine Erzählungen and in 2014 the Karlsruher composition prize for Hit him when he cry out for percussion solo.
Her main compositional emphasis is in the field of chamber music. She writes a very fragile, intimate, transparent music while trying to fathom out the instrumental borders for creating very fine and breakable sound-textures. Especially with percussion and voice she concerns herself intensively at the moment because they represent to her the most "natural instruments".
During the last years she created works like Kleine Erzählungen (2012/14) for clarinet, violoncello, piano and percussion, Snake Charmer for bass-flute, bass-clarinet, percussion, violin and violoncello, solo pieces for percussion (Hit him when he cry out, 2013) and piano as well as works for women choir (caché, 2014), two voices (Der blinde Fleck, 2014) and for voice and ensemble (Noch ist Raum, 2013).
Katharina is increasingly concentrating on vocal music and studied northern Indian Dhrupad singing with Amelia Cuni, Gianpaolo Peres, the Gundecha Brothers and currently with Marianne Svašek. The encounter with this form of music has caused an influence on Katharinas thinking about musical form, improvisation and human voices. At the moment she concentrates on works for voice.
She worked with the ensembles L'Instant Donné, Analogue Translation, IEMA, hand werk and Neue Vocalsolisten Stuttgart. Her works have been performed in Voix nouvelles Royaumont, at Blurred Edges Festival Hamburg, at the Tagen für Neue Musik Krefeld, at Chiffren-Festival in Kiel and in Festival Neuköllner Urtöne in Berlin.
Currently Katharina is living in Linz, where she continues her compositions studies with Carola Bauckholt. Besides she follows further studies in music therapy.
---
Here
you find a short biography for program notes.